In every season, Bloomfield Hills and Birmingham make it simple to enjoy the outdoors. Whether you prefer the athleticism of outdoor ice skating or want to enjoy a quiet stroll through a garden, both communities offer numerous ways to breathe in the fresh air — winter, spring, summer, or fall. Let's take a closer look at how you can get outside in these stunning Michigan communities.
Bloomfield Hills
Explore Cranbrook House & Gardens
Residents of Bloomfield Hills homes will love visiting
Cranbrook House & Gardens
, a spectacular 1908 English Tudor estate surrounded by 40 acres of lavish gardens, perfect for a relaxing outdoor stroll.
The estate is the centerpiece of the Cranbrook Educational Community campus, a National Historic Landmark that occupies some of the town's finest real estate. Cranbrook House was the home of George Gough Booth and Ellen Scripps Booth, who were among the metro area's leading philanthropists in the first half of the 20th century as well as the first wealthy family to live year-round in Bloomfield Hills.
Their Arts and Crafts style mansion Is the oldest surviving manor home in metro-Detroit and is filled with the finest furniture and art from the early 1900s. Tours of Cranbrook House are available from June through October. A stroll through the gardens will put visitors in a relaxed mood as they take in the flowers and other plants, fountains, streams, and statues.
Nearby, get your blood pumping with a visit to the
Cranbrook Wallace Ice Arena
.

Horseback riding at Bloomfield Open Hunt
Bloomfield Open Hunt
is a wonderful equestrian complex occupying 40 acres in the center of Bloomfield Hills. The facilities include two indoor riding arenas, two outdoor riding arenas, and a large stable for horses that belong to club members who reside in Bloomfield Hills luxury homes. Bloomfield Open Hunt also has a swimming pool, eleven tennis courts, a fitness center, and a restaurant in the classic clubhouse.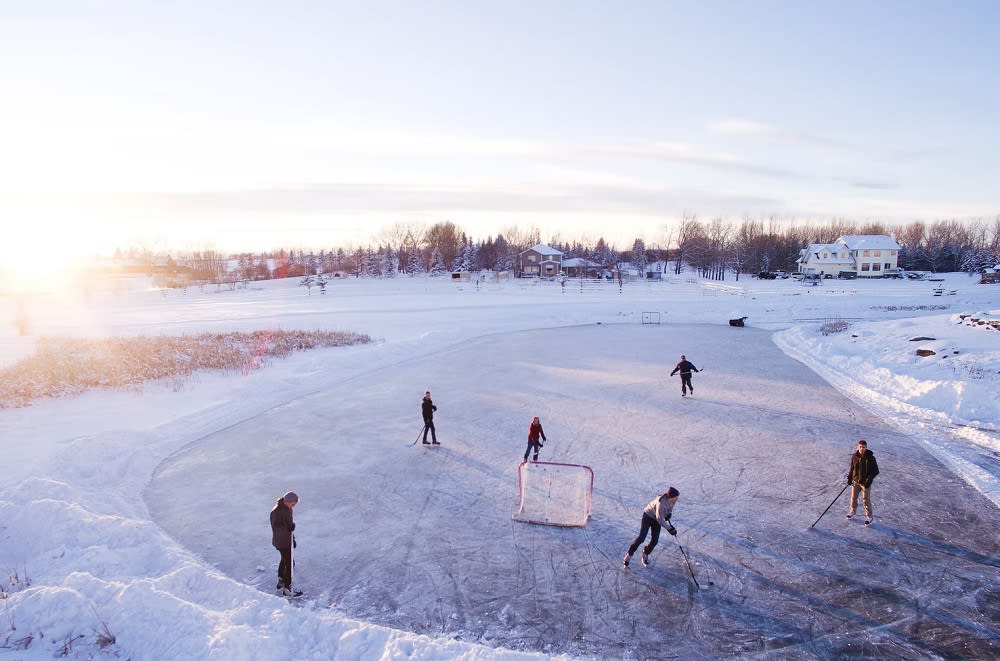 Birmingham
Ice skate at Barnum Park
Lace up your skates and head to Barnum Park's outdoor ice rink. This annual installation is a community favorite. Hockey is permitted on the rink from 8 AM to 10 AM and 2 PM to 4 PM daily. This allows plenty of time for visitors who prefer a more peaceful skating environment to get their turn on the ice.

Enjoy a concert at the Shain Park bandshell
Shain Park
is a pleasant open space located right in downtown Birmingham, making it convenient for residents of townhomes in Birmingham to access its facilities and activities. Shain Park is home to many performances in the bandshell and on a stage with a large open lawn, including the Park Summer Concerts. Shain Park also has a plaza fountain, a new children's play area, and a statue of Marshall Fredericks. It's a great place to go for a walk and get some fresh air while enjoying the wonderful scenery, regardless of the season.

Go sledding at Booth Park
Booth Park
is a major open space that has something for everyone. In the winters, when the turf hill is slick with snow, families congregate here for an afternoon of sledding. Parents who live in Birmingham houses bring their kids to the park for its well-known large play area that includes a labyrinth and tunnel. Booth Trail runs through the middle of the park and connects to the Rouge River Trail. There are expansive green spaces, native plants, a rain garden, and stabilized stream banks.

Kenning Park
Kenning Park
is the major park where kids who live in Birmingham homes go for all sorts of sports and recreation. Kenning Park is the major location in town for outdoor sports, as it has three Little League baseball fields and a softball field, tennis courts, and a skate park. A bubble covers six tennis courts in the winter, allowing residents to play the popular sport year-round. Kenning Park is also home to the Birmingham Ice Sports Arena and the Racquet Club at Kenning Park. There is a playground and plenty of open space.

Go fishing at Lower Baldwin Park on Quarton Lake
Lower Baldwin Park on Quarton Lake
is a lush, peaceful neighborhood oasis that beckons to people who have recently purchased homes for sale in Birmingham. Also known as Quarton Lake Park, it occupies 29 acres with the lake as its centerpiece. There are two fishing piers as well as other spots where fishermen can cast their lines. The park is a great place to take a walk along the gravel path to get some exercise and fresh air. Visitors also like to sit on the big boulders along the lake's edge.
Are you ready to call Bloomfield Hills or Birmingham home?
Bloomfield Hills and Birmingham, which are northern suburbs of Detroit, are two of the most affluent communities in Michigan, as ranked by
Money Inc
. Such a lofty status means that residents enjoy a wonderful lifestyle in pleasant surroundings that include public parks, country clubs, gardens, historic sites, and other open spaces. Residents also have easy access to attractions and activities in the rest of the metro area.
Bloomfield Hills touts real estate of all shapes and sizes, and this idyllic town has a population of just 4,000 and is home to a handful of large companies. To its south, Birmingham is home to 21,000 residents. Both communities make it simple to get outdoors any time of year, with public parks that offer residents access to hiking trails, tennis courts, baseball fields, and slopes perfect for wintertime sledding.
The housing markets in Bloomfield Hills and Birmingham remain strong due to the desirable location and upscale attractions in both communities. If you are interested in shopping for condos for sale in Birmingham or perhaps Bloomfield Hills luxury homes, you should hire a licensed real estate agent who knows these communities well and can match your needs and desires with ideal properties. An agent with years of experience in these wonderful suburbs knows which neighborhoods have the best schools, parks, shopping, dining, and commuting times.
These are the major parks in Bloomfield Hills and Birmingham. If you are interested in buying Birmingham real estate, contact
Ashley Crain
for the best representation in the area.
*Header credit: City of Birmingham